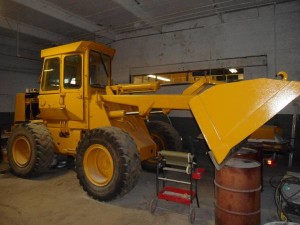 Here I have a clean condition of John Deere 544B for sale, for anyone who would be interested in.
As the picture tells, it has pretty low hours – about 3800 and all the parts/pin and bushing are cleaned and tightly adjusted. I have never put it to hard work or rough condition. It was on the golf course most of the time, so you know how it would have been.
I also finished a brand new fresh paint job, so the cosmetic condition is real good. Also the bucket still looks like brand new, and I just had brand new turbo installed.
It is really a ready to go condition, with clean title along with it. I would ask $15,900 with little negotiation possible.